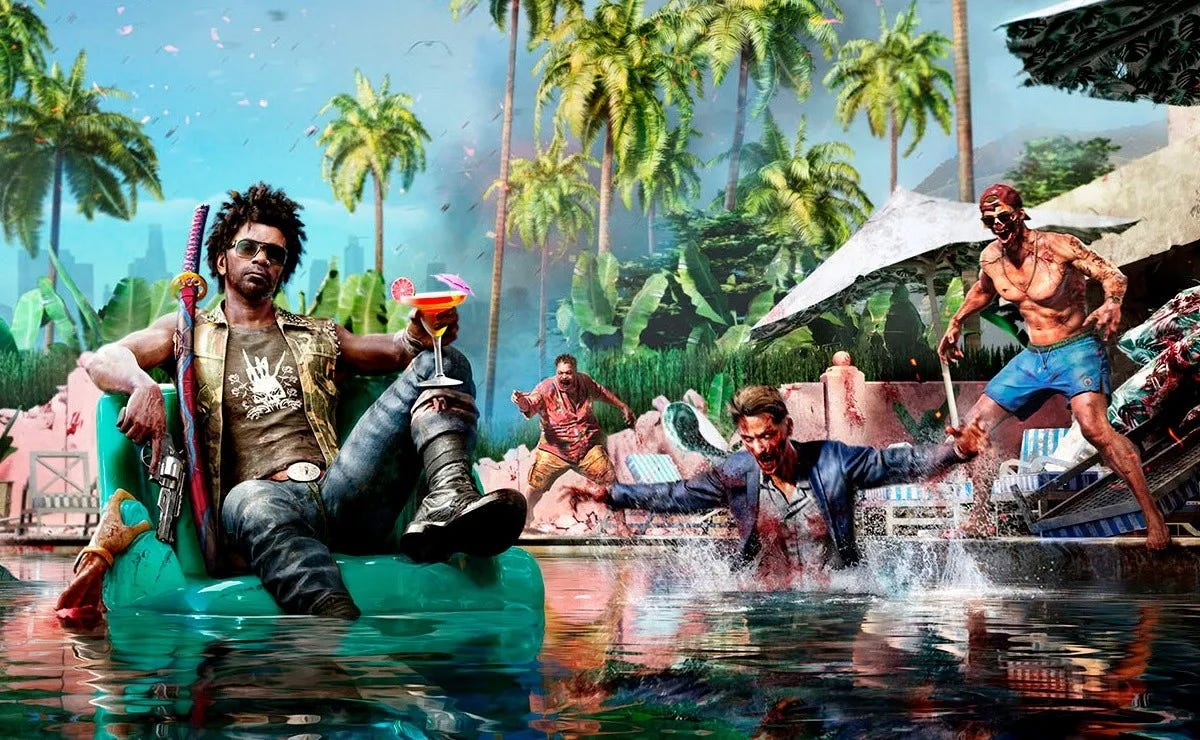 No soy particularmente fan de comenzar un análisis hablando de las circunstancias de éste, pero quizás Dead Island 2 sea una buena ocasión para hacer una excepción. El título de Deep Silver, originalmente anunciado en el año 2014 con uno de los tráilers ya más icónicos del pasado reciente de los videojuegos, ha tenido uno de los desarrollos más inexplicablemente largos y turbulentos del pasado reciente. Inicialmente corrió a cargo de la empresa alemana Yager Development, que sería reemplazada en 2016 por Sumo Digital, y un poco más tarde, en 2019, por Dambuster, el estudio interno de Deep Silver anteriormente conocido como Crytek Reino Unido y responsable de títulos como TimeSplitters o Homefront: The Revolution. Con todo esto a las espaldas, jugar Dead Island 2 en 2023 es un ejercicio de expectativas un tanto extraño: más una década después del lanzamiento del primer título de la saga, sin los desarrolladores originales a bordo y después de haber cambiado de manos varias veces, no queda claro qué tipo de experiencia deberíamos buscar en él.
Lo que sí hay en Dead Island 2 son zombis. En concreto, un prisma postapocalíptico bastante particular y, en cierta medida, desenfadado, que sí se mantiene en común con el primer juego. Si en Dead Island nuestro protagonista se despertaba después de una borrachera mayúscula en un hotel y sin absolutamente ningún recuerdo del estallido de la invasión no-muerta, en Dead Island 2 el personaje jugable que escojamos – esta vez hay, también, cuatro opciones posibles – recupera la consciencia después de un viaje aéreo que ha salido mal por culpa de la subida a bordo de un pasajero infectado. Como podemos, nos incorporamos y nos acostumbramos a los controles mientras tratamos de escapar de la nave en ruinas y contactamos con los pocos supervivientes. En los primeros minutos de juego, una mordedura de un zombi que nos pilla por sorpresa nos hace descubrir, también, que somos convenientemente inmunes a la infección; de esta manera queda claro nuestro papel de protector del resto de humanos que nos rodean.
Dicho así la trama del juego suena un poco seria, un poco grave, pero la verdad es que no lo es. Con las otras incursiones recientes del videojuego en el mundo de la supervivencia zombi en la mente, como el desesperanzador y emocional mundo de The Last of Us o la crudísima propuesta de Dying Light 2, hay algo un poco refrescante en patear a monstruos mientras nuestro personaje suelta algún chascarrillo, bebe latas de Monster para recuperar vida o ata una especie de táser a una llave inglesa y se congratula de lo excelente que ha sido su idea. Por otro lado, y de una manera un poco extraña, la personalidad de los cuatro personajes jugables no afecta particularmente al desarrollo de la trama – que tampoco es muy profunda, la verdad – así que escogeremos entre uno y otro basándonos en sus habilidades. Lo raro a lo que me refiero es que en el momento en el que escogemos nuestro personaje todavía no hemos jugado al juego, así que parece un poco pronto para decidir si queremos enfocar nuestra build a centrarnos en los ataques fuertes o al sigilo antes de haber probado el sistema. En cualquier caso, no podremos cambiar de personaje más adelante, así que tendremos que convivir con la decisión que hayamos tomado.